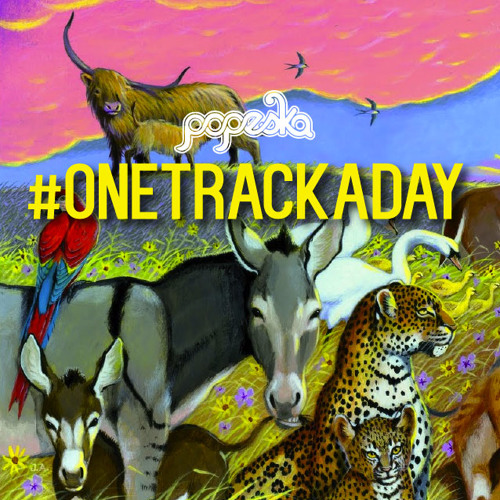 I recently stumbled on a song from Popeska's #OneTrackADay releases by way of GalaxyMusic's Youtube Channel.  While it's early, this assortment of free tracks is turning out to be the highlight of my music venturing this week.  Popeska shows real dedication to his fans by giving out 31 free tracks.  Some of these he must have been sitting on for a while.  With gigs being an artist's primary income in recent years, it's not a surprise when artists give out free tracks, but 31 is an insane amount at one time.
I hope his efforts pay off in the end and this #OneTrackADay gets him some well deserved recognition.  I have to admit though, when I first saw the hash-tag, I thought he was producing one track a day.  Which would, of course have a majority of the tracks come out sub-par, so I was pleasantly surprised when this was not the case.
While the hardest part is deciding which tracks to download, there is a nice variety of track styles on the compilation.  Choosing a bunch from specific styles, downloading them all, or even just a few favorites that you love, are all welcome.  Popeska seems to just want his fans to be happy while he enjoys doing what he loves.  Support the man and the movement below.
http://www.facebook.com/popeskamusic
https://twitter.com/popeskamusic
*EDIT* The list and streaming of the full tracks were taken down. Popeska has still made all of the tracks available for ZIP download here.
Also, he left a message in the zip folder which I have copied below.
"Hi! I wanted to personally thank you for being a part of this journey. It was seriously the most fun and fulfilling project I've undertaken so far. If you're reading this, it means all 31 songs of the OneTrackADay project are taken down. You may ask "Why take them down?" Sure it's weird that I put hundreds of hours into all these songs only for them to be gone, but this project was always intended to be an EXPERIENCE. For you, and me as well. Experiences come and go and the only way they live on is through the people who were there for that moment. I love that. Listeners who got to be involved with the OneTrackADay heard a new surprise, saw a new perspective, and felt a new feeling every day (hopefully!) And for me, it was an absolutely insane experience; I came into the month with a little over a dozen tunes, and from there I let my inspiration from my own every-day experiences write the rest of them. Directly from my life to yours. So sure, there may be some remnants here and there on the internet, but for the most part, these songs are only gonna live on through all of you sharing that experience with a friend. They aren't a click away on iTunes, they aren't on the blogs anymore. You have to get them from someone that was here. The way experiences should live on. If you were here the whole time: Thank you. This was fun wasn't it?! Some of you loved every last one of them, some of you thought a select few were amazing, some of you thought a few sucked. Lol. It's cool though!! I'm just grateful that you were here in the first place, regardless of your opinion of the tracks themselves. I looked forward to cranking them out as much as you looked forward to hearing them. I hope that this meant as much to you as it did to me, and I hope you send these around to the people you care about and they provide the soundtrack to all the fun things you do. If you received this from a friend: Welcome. I hope you introduce yourself and let me know what you thought. Even if you hated every single one, someone thought enough of you to share this. They wanted you to feel the way they felt. Pretty cool. I hope they succeeded. Anyway, I've got to get back to work finishing my album. Thanks again for being a part of this. 🙂 – Ralf  "